Today I want to bring something to your attention that you may not be aware of...
Have your ever visited Karen Valentine at
My Desert Cottage
? Oh please do...if you've not found her before...then go as soon as you can! She is a dear person with lots to offer in the way of artistic talent, classes, decorating and most of all she's a really nice person with a positive attitude that's contagious!
Now Karen has another venue to help all of us in the Land of Blog! She has opened "
Valentine Design... Building Beautiful Blogs
"!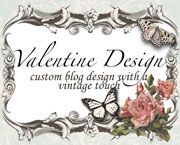 You simply must go there! She has freebies, tips and tricks, pre-made backgrounds, examples of makeovers for some of our favorite blogs and she does consultations, makeovers if you choose and very reasonable rates for her services!
I know you will be as thrilled as I was when I visited her today!